The Yardi Matrix Multifamily Housing report is out and the verdict is in:
Columbus' Rent Expansion Surpasses the Nation
Employment Growth Slows, and
Investors Continue to Bet on Value-Add Opportunities.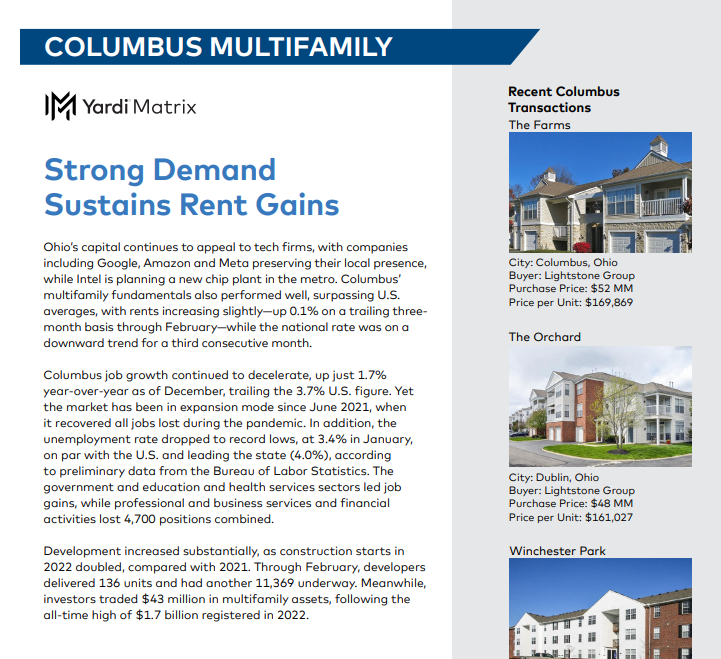 In our observations, the Columbus rental market has strong rent growth, but also some resistance in older and outdated properties. Housing demand is very strong, overcoming many vacancy issues that are present in other markets.
The Columbus MSA multifamily investment remains a highly sought after asset by investors throughout the country. They are willing to pay a premium to enter the Columbus market. However investors have sharpened their focus and expectations regarding property conditions and operations as cost of debt has increased. In order to achieve a premium on market pricing, owners should expect a well-positioned property in the Columbus market to have an economic vacancy rate of 10% or less, and deferred maintenance should be limited based on the classification of the complex (A,B, or C).
This does not mean that multifamily housing assets won't trade with some higher vacancy rates and deferred maintenance, but during this business cycle, we do not expect to see aggressive pricing demand for underperforming assets. Because of this dynamic, it is now more important to work with advisors if you feel your asset has unrealized growth opportunities, and to have an understanding of the market's expectations in a new market cycle.
The SVN Wilson Commercial Group has over 50 years combined experience in the multifamily markets and has transacted over $200 Million in multifamily units in the Central Ohio markets. For more information send an email to seth.asman@svn.com.