National Reach.
Ohio Expertise.
Taking collaboration in commercial real estate to a whole new level.
In an environment where the market was off by more than 30%, filled with uncertainty, and all publicly traded CRE brokerages were down… SVN was up. Despite the challenges presented by the pandemic, SVN had its best year in company history, posting a record year for revenue and number of transactions in 2020.
SVN was built for the future — sustainable, recession-resistant — so when the future came knocking, SVN was ready. The future is here. Are you ready?
This impressive collection of closings from 2022 illustrates our dedication and unparalleled expertise as commercial real estate leaders. 2022 Highlights include over $30 million in
Read More »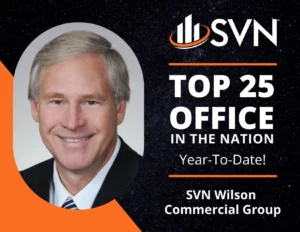 News
We are thrilled to announce that SVN Wilson has been named one of the top 25 SVN offices year to date! Our office is 23rd
Read More »
News
We are delighted to announce Seth Asman of SVN Wilson has been recognized by SVN Commercial as one of the top 10 advisors across the
Read More »
Need to Sell Your Property?
Our Marketing Strategy Maximizes the Value of Your Property.
SVN | Wilson Commercial Group, LLC Advisors quickly launch proven marketing strategies PLUS practice Compensated Cooperation, which mobilizes the entire brokerage community far and wide to sell your property. Through the SVN national platform, your commercial real estate assets get expanded market reach and increased exposure, generating more offers. It is the only way to sell to achieve maximum value!
Call our office and let us get to work for you.